The Rings of Wonder – A unique gift for the hard-to-buy-for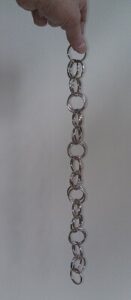 The tumbling rings illusion has been mystifying people for centuries. It goes by many names: the magic chain, tumble rings, and, here, the Rings of Wonder. It is very occasionally found at random magic shops.
It's a strangely interlinked chain, made of pairs of rings, and is symmetrical with a single ring at each end.
To make it work, the chain is held by the top ring and one of links directly below it.
The top ring is dropped and the strangeness begins.
Immediately, the bottom ring of the chain disappears while the top ring cascades down the chain, dropping through all the links, to become the new bottom ring.
It happens so quickly that most people repeat it a dozen or more times, trying to figure out exactly what's happening.
But the falling ring is all an illusion. The top ring only falls and twists around to the bottom of the set that's being held. But, as it does, it triggers the same movements, in sequence, with each pair below. It's a compelling action that is almost hypnotic in nature.
Using the menu above, you can read more About it. For something so unusual, there is surprisingly little to be found. Here, you'll find an overview of what's been recorded about the magic chain.
More details can be found on the FAQ  page, where common questions are answered.
If you're interested in Buying One, you can order one or more right here. Each set comes with a small guide describing how to hold it properly to make it work. Without that knowledge, others will only do it by accident, allowing you much opportunity to tease them about it.
If you've been searching for a unique gift, something suitable for  teen birthdays, adults who like puzzles, or a perfect office gift, you have found that and more.
This magical chain makes the perfect gift for anyone who enjoys the unusual and is a hard person to buy for on special occasions.
Thank you for visiting. Suggestions and comments are welcome. To avoid the spam we all hate, please use the form on the Contact page.
(Mobile users can find these links using the Menu tab at the top left.)